"No tea. No coffee. No fizzy drinks. No wine. No beer. No orange juice. Just water for 10 tough days." - the Royal National Lifeboat Institution (RNLI)

The powers that be at work have challenged their employees to take part in a H2Only challenge from RNLI, in which they only drink water for 10 days. So that's no alcohol, coffee, tea, juices or soft drinks, just good 'ol H2O between 22 and 31 January.
The RNLI are fundraising for a new state-of-the-art Shannon-class lifeboat to be stationed at Wells-Next-The-Sea.
The idea is that by cutting out all these different drinks, we then donate some (or all) of the money.
Straight off the bat, alcohol, tea and coffee will not be an issue for me as I rarely drink booze or tea. And coffee? Even the thought of drinking a sip of coffee makes my stomach churn. It's the soft drinks that will be difficult to give up. Having said that, I haven't had a drink of Coca Cola, Pepsi or other caffeinated soft drink since Christmas Eve (except for one glass at an event with work that someone had bought for me, not realising that I had given it up) so maybe it won't be all that hard?
So, for the next 10 days I will be drinking purely water. And that means no squash to give it flavour! And no flavoured water either. I have a JustGiving page which, if you should have a spare pound or two, I'd love if you could sponsor me to take part in the challenge - just click on the link below. Or, if it's easier, simply text 'BTIM83 £1' to 70070 to donate £1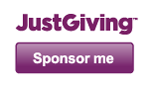 You can follow my daily progress over on Twitter and I will post an update here at the end of the week as well as at the end of the challenge.

Do you think you could drink only water for 10 days? Do you think I can drink only water for 10 days? Leave me a comment and let me know!